Found in a back room of

Neo Babylon 6-2, Ushabti are part of the chain that leads to the

Sunken City. Finding the correct one as noted in the

Tablet of Destiny and bringing it to the next level, 6-3, will cause it to "hatch" into the

Qilin.
Description
Each Ushabti has a unique appearance composed of three different attributes:
The first attribute is a general descriptor that can either be simple, tall, smiling, or cracked.
The second attribute is the material, which can either be clay, wood, gold, jade, or onyx.
The back room that contains the Ushabti is always accessed through a small doorway in a structure found somewhere in 6-2 of

Neo Babylon. Inside, multiple deadly crushing

Elevators can be found, along with all 100 possible variations of Ushabti.
After acquiring the

Tablet of Destiny , its Journal entry will be updated, describing the appearance of the Ushabti which will spawn the

Qilin after taking the figurine into the next level. The correct Ushabti is chosen at random for all non-seeded runs.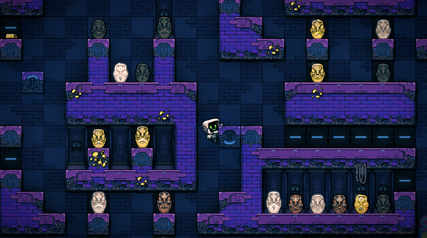 Sacrificing an Ushabti to an Altar will prompt Kali to award the player with a "companion", varying with the player's favor.
Ushabti sacrifices will cut the player's favor in half if they are at a positive favor level, and as such do not allow the player to easily gain additional favor at an Altar.
Shooting the correct Ushabti with the

Clone Gun will still cause it to produce a

Qilin in the next level. If the player clones the correct Ushabti before it hatches on

Neo Babylon 6-3, the clone will not hatch until
Tiamat's Throne, 6-4. This can be done repeatedly until the player runs out of Clone Gun charges.
Descriptions
Descriptors
| | | | |
| --- | --- | --- | --- |
| Simple | Tall | Smiling | Cracked |
| | | | |
Materials
Symbols
| | | | | |
| --- | --- | --- | --- | --- |
| Snake | Eye | Vortex | Ankh | Bat |
| | | | | |
Examples
| | | | |
| --- | --- | --- | --- |
| "A tall servant of onyx marked by the ankh will open the door for the Aspirant." | "A smiling servant of jade marked by the bat will open the door for the Aspirant." | "A cracked servant of clay marked by the vortex will open the door for the Aspirant." | "A simple servant of gold marked by the eye will open the door for the Aspirant." |
| | | | |