Spelunky is an award-winning roguelike/platformer game made by the indie developer Mossmouth.
The gameplay is like a combination of
NetHack and La Mulana.
The original PC version is freeware, available from Spelunky World.com.
The upgraded Xbox Live Arcade version can be purchased for 1200 Microsoft Points for Xbox 360,
and is soon to be released on PC and
the Playstation Network for PS3 and PS Vita.
This wiki is a complete index of the game, so be mindful of unmarked spoilers.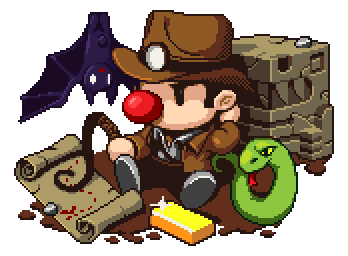 Try using the search bar if you can't find what you're looking for here.


This wiki is in the process of
merging
with the
Spelunky XBLA wiki
to create one ultimate wiki on all things
Spelunky
. We welcome Xbox players and encourage them to contribute to this exciting new project!
Helping Out
Useful Pages