(Showed some features shown in the gameplay trailer)

Line 16:
Line 16:
 

== Trivia ==

 

== Trivia ==

 

* Some sort of freezing weapon will be featured in the game; in the trailer, a shopkeeper is frozen and stomped on by the player.

 

* Some sort of freezing weapon will be featured in the game; in the trailer, a shopkeeper is frozen and stomped on by the player.

 
+

* There appears to mounts in the game as featured in the gameplay trailer

 
 
 

== Video ==

 

== Video ==
---
Revision as of 10:06, 14 March 2020
Spelunky 2 is the upcoming sequel to Spelunky, a unique platformer game created by developer Derek Yu. Initially scheduled for 2019, Spelunky 2 has been confirmed for launch on PlayStation 4 and Steam and, following a delay, has an unknown release date.[1]
Other platforms are still being considered but may not become available until after the initial release. Once again players will journey deep underground and explore amazing places filled with traps, treasure, and secrets - but this time as Ana Spelunky, the child of the adventurers of Spelunky.
The sequel was first announced at Paris Games Week in October 2017. On August 29, 2018, a full gameplay trailer was released.
Trivia
Some sort of freezing weapon will be featured in the game; in the trailer, a shopkeeper is frozen and stomped on by the player.
There appears to mounts in the game as featured in the gameplay trailer
Video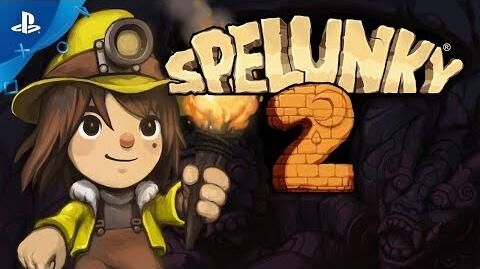 References