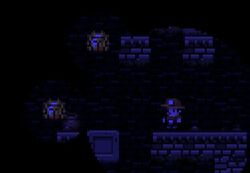 Scumming (sometimes known as level scumming) is a technique wherein players repeatedly restart the game until the randomly generated conditions work in their favor.
It's a common tactic in roguelikes that procedurally generate levels; in games where the difficulty is influenced by chance, restarting the game after an unlucky start can lead to better odds of success. The player can simply regenerate the world an unlimited number of times until they like what they see.
Examples of scumming in Spelunky include:
Because the first level of the Mines has no shops or particularly exploitable level feelings, a player who intends to scum will generally want to make use of shortcuts to start in later areas.
Community content is available under
CC-BY-SA
unless otherwise noted.