Piles of Scrap are a common sight in levels with the Metal Clanking Level Feeling in Volcana.
Properties
Scrap is generated from one of the many Spawners that appear in Metal Clanking Levels in large quantities. They spawn onto Conveyors, where they are led into either a pool of lava or into the ground of the level's sub-area.
Scrap is in essence, a reskin of a Pot, as it breaks from being attacked, thrown, or dropped.
Although Scrap may still contain enemies that may also appear from a Pot, such as Snakes, Cobras, Spiders, and Scorpions, Scrap will never drop treasure and very rarely drop an item that may also appear from a Crate, such as a Compass or Bomb Bag.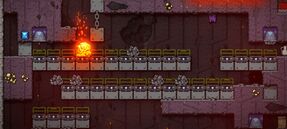 Trivia