The Scepter is one of the most powerful ranged weapons in the game, perhaps besides the shotgun.
It is found on level 13 in the Temple, and dropped by the Mummy, which is considered to be the most dangerous enemy in the game.
Functionality
Edit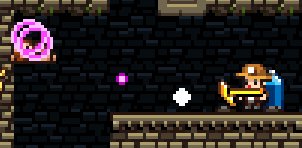 The Scepter is a held item that functions as a ranged weapon. It fires pink rings of ancient Egyptian laser beams, which will automatically home in on and kill the nearest enemy. It fires very fast and the rays pass through walls and floors, allowing for perhaps five rings on screen at once (though this is generally excessive: It's more useful for firing at something the previous blast ignored).
It has five major drawbacks, though:
The Scepter (along with the Hedjet) is a required item to access the City of Gold, but the Scepter must be forfeited to open the Golden Door. As a result, you will not get to use it in the City of Gold or later levels.
Spelunky's scepter resembles the Was Scepter, an Egyptian symbol of power often pictured in the hands of gods.