This is one of the very first mods released after Spelunky's source code was released. The aim of the PotionMod is to offer a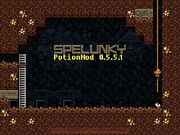 compelling subsystem to Spelunky that could give seasoned players a new mechanic to delve into, or to the noobie spelunker that might need a little extra versatility to break open the deeper levels of Spelunky.
This mod does make Spelunky easier if used right.
The potions mainly come from chests, but can also be bought in selected shop types (including the new Alchemy Shop).
In order to drink a potion; you need to hold the potion and hold Up and press Whip. A potion can also be tested on a caveman or a yeti; simply stun the unwilling subject, then hold a potion over his body and press Whip.
An empty bottle can be filled with juicy mushrooms, creating a new potions in the process.
Drink safe and happy spelunking!
The current Version (0.6.0.) of Spelunky PotionMod features:
Edit
3 Colors of potions.
5 Potion effects that is randomly matched to a color for a single play.
1 New shop type.
3 mushrooms added, used for brewing.
Download
Edit
direct download to version (0.6.0) below:
http://www.mediafire.com/?zywyzxjoafz

direct download to source (0.6.0) code:
http://www.mediafire.com/?iv7q3y33uar7c1b
If anyone has questions about the source, feel free to contact newsanctum@hotmail.com
Community content is available under
CC-BY-SA
unless otherwise noted.