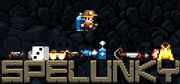 Spelunky Invincible - A Cheat Mod is a modified version of Spelunky that contains cheats, mostly for generating weapons and items and deleting shopkeepers.
The current version is v1.0. Download Here
Usage
Press F11 while playing the game to bring up the dialog box.
Enter any of the following cheats (all letters should be small caps):
shotgun and basketball
bomb
dice
basketball
pistol
webcannon
teleporter
bow
machete
mattock
arrow
flareffffffffffffffffffffffffffff11111111111111119999999999999999999999999999999
rope
flarecrate
bombbag
bombbox
paste
compass
springshoes
spikesshoes
jordans9999999999999999999999
spectacles
udjateye
jetpack
cape
ropebag
ropepile
kapala
ankh
sceptre
key
crate
chest
lockedchest
gloves
mitt
hedjet
Don't worry about typing something wrong, it won't break your game.
Shopkeepers can be deleted by pressing F12.
Forum Thread
You can discuss and contribute to this mod on the official Spelunky forumsall
Community content is available under
CC-BY-SA
unless otherwise noted.