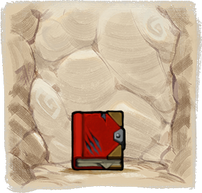 The Journal is a handy feature that appears in Spelunky 2.
It serves as a sort of encyclopedia that records all the Places, Monsters, Items, and Traps that the player comes across in the game, as well as keeping track of gameplay statistics, such as playthroughs and deaths.
In the beginning of the game, Ana Spelunky finds the book when she first enters the Entrance Cave and discovers it belonged to her father Guy Spelunky.
Ana reads about Guy's journey and his adventures with his wife Tina Flan, as she progresses through the interactive tutorial room.
After completing the tutorial, Ana Spelunky finds a key tucked into the last page and uses it to open the entrance to Dwelling, beginning their own adventure just as Guy did after finding the very same journal left behind by Yang.
During the game, the journal will automatically document all the places you visit, the monsters you kill (or are killed by), the items you find and the traps you fall victim to or encounter.
The journal can be viewed at any time by pressing the Back/Tab/Select/Touch Pad button, and shows the current level, money collected and time spent in the caves.
Entries
Ana Spelunky
Margaret Tunnel
Colin Northward
Roffy D. Sloth
Alto Singh
Liz Mutton
Nekka the Eagle
LISE Project
Coco Von Diamonds
Little Jay
Tina Flan
Valerie Crump
Au
Pilot
Princess Airyn
Dirk Yamaoka
Community content is available under
CC-BY-SA
unless otherwise noted.