Dwelling is the first area in Spelunky 2.
Geography
The Dwelling consists of 4 levels, ending in a choice between proceeding on to The Jungle or Volcana.
General
1-2
This level always contains a shop of some kind
1-4
This level is always Quilback's lair, followed by the two level exits

Monsters
Traps
Special Features
On 1-2 or 1-3 there will be an entrance to a room with a blue chest. It can only be opened with a key, which will always be somewhere on the same level you find the chest. Every Big Chest contains an Udjat Eye. Its only use in the mines is to reveal hidden treasure similar to the Spectacles. It does however help you to find the Black Market entrance in the coming stages of Jungle, or activating the Drill on Volcana.
On 1-4 there will be arena with Quillback miniboss. With his "help" you may choose your next area: Jungle or Volcana.
Ghist Shop
Under Quillback's arena there will be hidden Ghist Shop with ghist shopkeeper. He sells Mystery boxes which cost $20,000 each and contain high tier items such as the Kapala, Bulk bombs and ropes, Freeze Ray and the Powerpack, although they can rarely contain less incredible items, like the Web Gun. To access it, you must be cursed.
Characters
You can find Alto Singh's coffin under Quillback's arena before you enter Jungle or Volcana.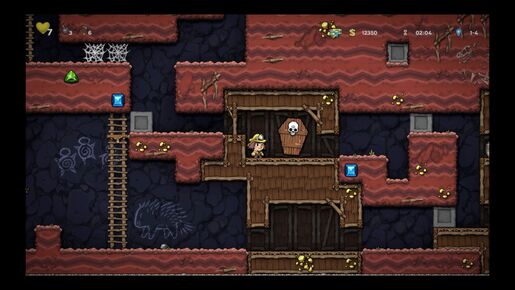 Community content is available under
CC-BY-SA
unless otherwise noted.