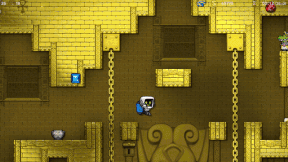 The Duat is a mysterious realm of the dead only accessible by sacrificing oneself on the altar in The City of Gold with the Ankh in the inventory of the sacrificed player. Here one battles the god Osiris and his resurrected son Anubis II, to obtain the Tablet of Destiny and reach the Ice Caves. The Duat parallels Tide Pool's Abzu, the only other location where one can get their hands on the Tablet.
Features
Duat, like the Sunken City, is a "reverse" level, where you spawn at the bottom row, and must climb to the top, avoiding various enemies.
As the Duat is only location that can have no wall, Rope may not activate, as there are a lot of tiles that have no solid background they can hold to.
Throughout the Duat, a player will encounter numerous Snakes, Cobras, and Ammit. Occasional pockets of lava can appear throughout, though like all other lava outside of Volcana do not produce Magmars.
The Egyptian god of chaos, Apep, passes through the level frequently. Making contact with its body will deal two damage and stun a player, while being hit by its head will kill a Spelunker instantly. Apep will repeatedly appear in only two sections of the map; one being some point near the halfway point through the level, and another being just below the top of the level before the boss battle.
A Kali altar will always spawn, and depending on the player's favor, will have a certain item on it.
Unlike other secret zones, there is no unlockable character here.
The Ghost will never spawn in the Duat, and neither will an angered Tun or Shopkeeper.
At the top of the Duat, the judge of souls, Osiris will appear. If he is not killed immediately, Anubis II will spawn a few seconds after Osiris does. Killing Osiris will cause him to explode into emeralds, and leave behind the Tablet of Destiny and a portal to the Ice Caves.
Enemies
Strategy
Trivia
The Duat is the realm of the dead in ancient Egyptian mythology. The sun god, Ra, would battle Apep, who embodied the primordial chaos that the sun had to defeat to rise in the morning. Oddly enough, the correct way to refer to the realm in a sentence is not as "Duat", but "the Duat."
Ushabti can be commonly associated with the Duat, as they are intended to be servants for the dead in the afterlife.
Community content is available under
CC-BY-SA
unless otherwise noted.