Dice are an item in Spelunky 2.
Properties
Dice are used as part of the dice minigame in Dice Houses ran by either
Shopkeepers or by

Madame Tusk in Tide Pool. When a dice is thrown, it will land with a different number on the front. This is used as part of the minigame in Dice Houses, where the player rolls two dice, and receives varying results for what number they add up to.
There is a trick to dice, where if they are whipped midair, they will always roll a 1 or a 6. This can be used to more easily roll 7s to earn prizes at a Dice House, or guarantee certain rewards at an altar, as each die will have an equal chance to roll either number.
Sacrificing two dice together at an altar will give the player a reward, varying with what the number added up to.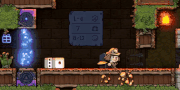 Trivia
It was possible to pick up a die while it was still rolling midair. Since this is technically a different item, it forever rolled in the player's hand until put down. This was fixed in version 1.20.4a.
Receiving a Snake from offering two dice with a combined value of 2 is an obvious nod to the term "Snake Eyes", referring to said value on a dice.