The Cosmic Ocean is the final area of Spelunky 2. It is accessible by shooting the eye of Hundun with Hou Yi's Bow, armed with the Arrow Of Light.
Geography
The Cosmic Ocean is a twisted adaptation of every world in the game, with each level having a theme of a specific world. A player can find themselves back in a broken up recreation of Dwelling, Jungle, Volcana, Tide Pool, Temple of Anubis, Ice Caves, Neo Babylon, and even Sunken City.
Each level is always of varying width and height, and loops around within itself both vertically and horizontally. This means that if a player falls down in a level of the Cosmic Ocean, they will end up at the top of it.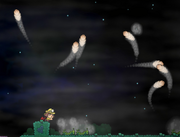 Despite what the player may assume from their experiences with rope not functioning without a proper wall in the Duat, Rope will function perfectly normally, even if clinging to the black nothingness of the Cosmic Ocean. This also means that enemies that cling to walls like Grub will function normally as well.
Many of the level generation rules that normally apply in the standard worlds do not apply in the Cosmic Ocean. This means that a player can potentially be in danger the very second they enter a new level, such as a Crush Trap appearing just above the entrance of a Temple of Anubis-type level, or an Elevator appearing above the entrance of a Neo Babylon-type level.
There are 95 levels the player must beat to reach the 3rd ending of the game, culminating to 7-99, where they will become one with the cosmos and leave behind a Constellation.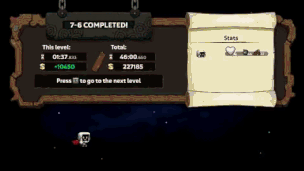 Unlike the standard levels found in the rest of the game, A Celestial Jelly will be blocking the exit door, vaporizing any player that gets too close. In each level, 3 celestial orbs will spawn. When all of the orbs are destroyed, The Celestial Jelly will move away from the exit and begin moving towards the player in an attempt to stop them from leaving the level.
When the timer hits 3:00 minutes, a second Celestial Jelly will spawn instead of The Ghost.
Shops, Pets, Curse Pots and Kali Altars will NOT spawn in the Cosmic Ocean under any circumstance. No Kali Altars or Pets means that if the player is Poisoned or Cursed, the only way to remove the affliction is to die.
Regular Compasses do not work in the Cosmic Ocean, and only the Alien Compass points to the locations of the level exits here.
Strategies
Community content is available under
CC-BY-SA
unless otherwise noted.