Cameras are a type of Weapon in Spelunky 2.
It is usually found inside shops, but can also be found inside of crates with a 1.15% chance of appearing. A Camera is a guaranteed drop from Great Humphead.
Functionality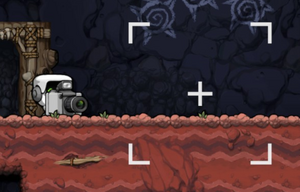 When used, Cameras cause a bright flash and affects a large square about 1 and a half tiles in front of the player with a 3x3 tile area of effect.
Cameras do not normally deal damage to enemies, instead stunning them if in its radius. Using a camera on an already stunned enemy refreshes their stun timer. The flash works even through walls, and can be used to see in dark levels and in background sections due to it briefly illuminating the area.
It also has a variety of unique interactions with different enemies and objects:
Enemies that are not stunned, killed, or otherwise unaffected by the Camera are immune to its effects, such as Pangxie, Anubis, the Yeti King/Queen, and Celestial Jellies.
After being used, there is a delay of 49 frames (.82 seconds), or 24 frames (.4 seconds) with a Powerpack equipped, before the Camera can be used again.
Strategy
Notes
The bright flash of the camera may be lowered in intensity or removed entirely by the player if they desire, by visiting the "Graphics and Audio" section of the options menu and setting "Bright Flashes" to either "Low" or "Off".

This is only a visual change that does not affect gameplay; the Camera will still function normally by stunning/killing enemies and illuminating dark areas.

Version History
Disclaimer: All content from Version 1.25 and onwards are currently unavailable on PS4.
In Europe, Africa, Middle East & Oceania, all content after Version 1.20.4d are also unavailable on PS4. This is due to multiple reasons, although content will be available in the future.
1.20.3a (W64)
Fixed caveman boss state after being flashed (by the Camera) while he was jumping
Other games
Appearances in other Spelunky games: