Arrows are a simple, yet powerful weapon in Spelunky 2. Arrows can be made of metal, or tipped with a deadly Poison. Unlike most projectiles, they deal two damage instead of one on hit, but break if it is not powerful enough to destroy it's target.
Functionality
Stone Arrows
Stone Arrows are most commonly found inside of Arrow Traps in the Dwelling or Sunken City. They can also be obtained if a player has 16 favor or more with Kali and offers a rock to an Altar.
When an arrow hits an enemy that leaves no corpse, such as Bats, Spiders, or even Lizards at 2 HP or less, the arrow will continue flying forward. Otherwise, hitting an enemy with a stone arrow will break the arrow, leaving behind only the hilt, which deals no damage and only briefly stuns entities it is thrown at.
If a stone arrow is shot using an Arrow Trap, Crossbow or Hou Yi's Bow, it will fly straight forward until it hits a body or a wall, identical to how it would be thrown by a player with a Pitcher's Mitt.
Unlike metal arrows, stone arrows can be set alight while they are traveling through the air, which increases their damage to 3 and allows them to ignite anything they hit. Stone arrows are lit by default if they're shot out of an Arrow Trap in a dark level, but they can also be lit if thrown or shot through a torch or other source of fire. The Stars Challenge takes advantage of this quirk by giving the player a stone arrow and crossbow to help them complete the challenge.
If a stone arrow hits a corpse or an entity that leaves a corpse/is not at low enough HP to die from the arrow, It will break and leave only it's end, which is only good for stunning enemies and triggering Arrow Traps.
Metal Arrows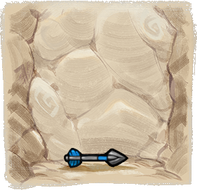 Metal Arrows are a special variant of Stone Arrows that do not break, regardless of what they are thrown at. If thrown at a body, it will instead bounce off of it opposite the direction it was originally sent from.
If a metal arrow is shot using a Crossbow or Hou Yi's Bow, not only will it have Pitcher's Mitt-like properties, but upon making contact with a wall, it will stick to it for a short time and allow the player to stand on top of it. After a certain amount of time/the metal Arrow is whipped, it will fall to the ground.
Metal Arrows have the special property of instakilling Vampires and Vlad, leading some to believe that they are made of silver, believed to be a real life weakness of Vampires in folklore, much like Werewolves.
Because of it's Vampire killing properties, a Metal Arrow and Crossbow is the weapon of choice for Van Horsing.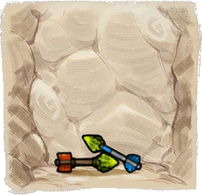 If an arrow kills a poison enemy, such as a Hermit Crab, Scorpion, or Cobra and persists (doesn't break), it will turn poison-tipped, meaning that the next target it hits will leave them poisoned
Poison
-tipped arrows can also be obtained from a dead/angered
Tun
, who fights her adversaries with
poison
-tipped metal arrows, or from
Arrow Traps
in the
Sunken City
, which are loaded with
poison
-tipped stone arrows.


In Spelunky HD, an Arrow can be found when activating or breaking an Arrow Trap. The resultant projectile can then be thrown to deal 2 damage. Contrary to the former non-HD version, when an arrow hits its target, it becomes a headless arrow instead of disappearing.
Headless arrows deal no damage but can be used to break pots, chests and Mystery Boxes open from a distance. It may cause Powder Boxes to explode. It can knock-out a Spelunker or a Damsel. It can also cause a Spinner Spider to fall from its web and jump around. It has no effect on flying bats but can make a Snake, a Cobra or a Giant Spider stumble for a second. Thus, headless arrows appear to be one, if not the only, throwable object in the game that can be used almost safely in every condition.

Arrows are a basic projectile launched from the Arrow Traps found in the Mines and the Temple.
Six arrows are also added to the player's inventory when they acquire a bow.
Functionality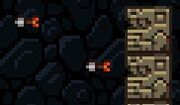 Arrows can be thrown at enemies or shot from a bow. When shot from a Bow, the distance they travel depends on how far the Bow is drawn. A fully drawn Bow will shoot the arrow farther and straighter than an arrow thrown by hand.
Arrows that hit a character will disappear, but if an arrow doesn't cause any damage to anything, it will simply lie on the ground and can be re-used.
Arrows deal 2 HP of damage when launched from an Arrow Trap, but only 1 HP when used by the Spelunker.
Like some other objects, it may ricochet off a wall when thrown and cause 2 HP of damage to the player.
An arrow will embed itself into a wall if it is thrown or launched with enough force, either by firing it from a Bow at full draw, or from throwing it with a Pitcher's Mitt or while running.
When it sticks into the wall, the Spelunker can grab onto the arrow and hang from it much as he can hang from ledges.
With enough arrows and a bit of luck, this can be used to form a kind of ladder that will allow you to climb a sheer wall without the Climbing Gloves.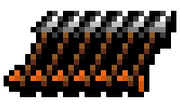 When a Bow is picked up, it also comes with a 'quiver' full of six arrows, stored on the HUD, allowing the Spelunker to carry more arrows than usual.
Walking over an arrow on the floor will add it to your inventory.
The quiver remains even when the Bow is dropped (although it will be invisible and new arrows will not be added to it). Picking up a second Bow will add another 6 arrows on top of the arrows left in the quiver.
This trick can be utilized to safely steal arrows from shops.
The equipment arrows in your inventory cannot be used without being shot from a Bow, so become effectively useless if the Bow is lost.
Community content is available under
CC-BY-SA
unless otherwise noted.